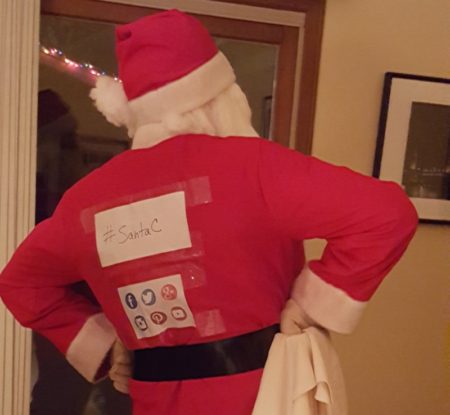 Santa has come to my house every Christmas Eve since I can remember, so of course, I believe! He's really good because he has found me at my grandma's house, our cabin in the woods, my house, no matter where I have been. I still get butterflies in my stomach as it gets closer and closer to Santa's expected arrival.
Last year Santa even jumped into the social media age! He wanted to make sure that his photo showed up across all platforms. Who knew that Santa would rely on marketing to promote his brand???!!!
One great mystery involved our golden retriever, Brisco. Every year, for thirty minutes before Santa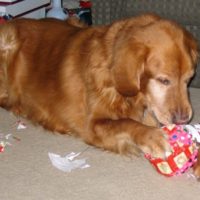 was expected, he would jump around and start running back and forth to the door. He was beside himself when Santa shook his sleigh bells and knocked on the door. He never jumped up on anyone else, but would immediately put his paws on Santa's chest looking for his present. He was so excited to toss his gift around and  tear off the paper. We kept thinking that this year it wouldn't happen, but it was like clockwork every, single year. I still don't know how he knew!
One year at my aunt's house we even heard Santa's reindeer on the roof. I remember looking around at my cousins with wide eyes. We never expected to hear Santa's reindeer! I heard those hoofs, it must be true, and I still believe. You just never know!!!! I love believing in Santa and waiting on Christmas Eve for his arrival.
Santa is always someone I can count on and trust to show up. I know that sounds silly, but it is something I know will happen year after year. I look forward to it and know it will happen. So, here is the connection to your life and your business. What can you count on? What do you believe in? What if you let yourself believe in you? If you could trust yourself to show up, just like Santa, what would that mean? This coming year show up as fully as Santa does.
Click on over to the Purposed Lives Facebook page to see additional photos.